Passport Midori Traveler's Notebook
I recently started using my Passport size Traveler's notebook again.  I missed the size so much!  I am currently using it as a wallet, with a monthly insert, and a weekly insert inside.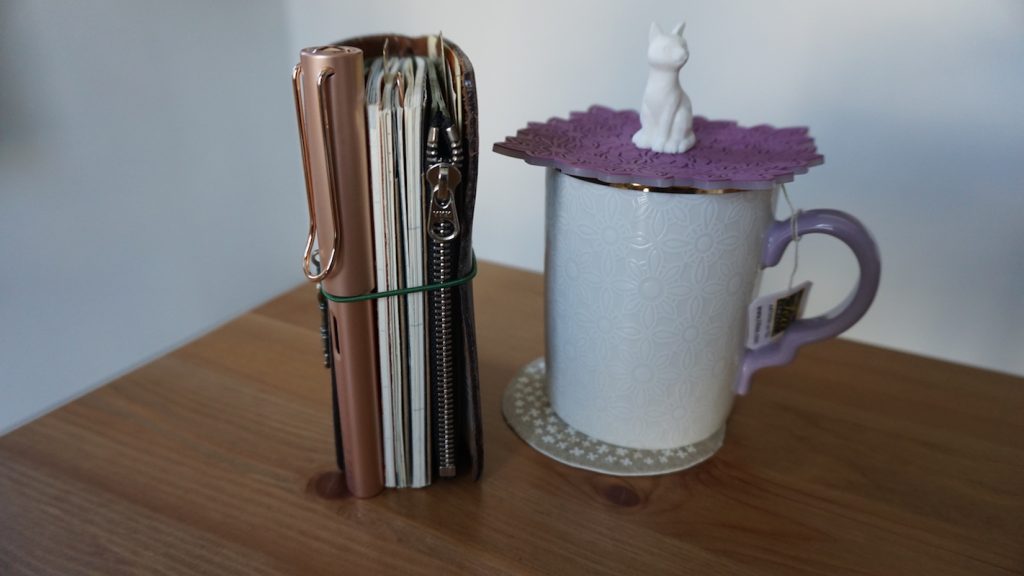 I love the size of the passport traveler's notebook.  It's so easy to carry around! The travel wallet insert is from The Time Stationery in South Korea. I really love the fact that the card slots are vertical.  It makes it so easy to access my credit cards and IDs. If you're interested in this wallet insert, please check out their site.  They do ship to international customers.
The monthly insert is where I write one thing a day that makes me happy or something I am thankful for. I keep it very simple in this insert. I love calling this my minimalist monthly layout – compared to my A5 MD Diary (which is a SUPER decorated monthly layout).
I honestly didn't need the weekly insert … because I am using the regular size traveler's notebook vertical and horizontal inserts.  I really love the size of the passport weekly so it's just another insert to decorate weekly (it helps me use up my stickers & stationery LOL).
I am taking a trip to South Korea tomorrow for the Olympics and I wanted to carry a "short trip" insert with me (this insert is only available at the Traveler's Factory in Japan).  In 2017, I did quite a bit of travel journaling in passport size notebooks.  I was very happy which each completed insert and I am thinking about going back to travel journaling in the passport size.  I am not documenting the entire trip in the passport size notebook this trip, but I will be writing little snippets + adding some photos (The bulk of my travel journaling will be in my regular size Midori).
How do you use your passport size traveler's notebook?