Things to write on Postcards
The small space on the back of a postcard may seem daunting to some people. For me, I often find this as an advantage. Unlike a letter, there is no need for a lengthy masterpiece in the blank space. Messages on the card can be brief but still full of love. I enjoy writing postcards to family, friends, and even myself. For moments that I don't ever want to forget, I write it down on a postcard and mail it to my house. When I get home, I have that memory to treasure forever. If you have time in a coffee shop or cafe, send a postcard to a friend.
Postcards to Friends and Family:
1. Where you are currently traveling to
2. Travel tips
3. Your favorite coffee shops in the local area
4. An inspirational quote or lyrics from a song
5. Write about your day
6. Interesting facts about the city
7. Draw a picture or doodle (If you can't draw like me, use a bunch of rubber stamps!)
8. Date and the exact time you are writing the postcards
9. A funny moment that happen during your day
10. A memory you cherish with the recipient
11. Something you learned during your trip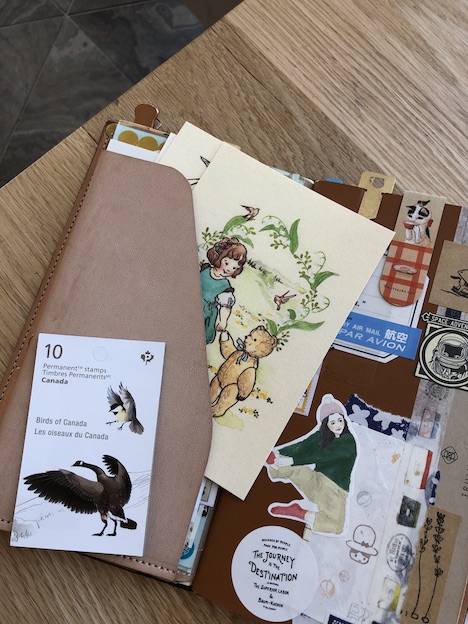 Postcards to Yourself:
1. Inspirational or motivational quote
2. Something you want to remember in that exact moment
3. Places you visited OR places you didn't have time to visit (as a reminder to visit them next time)
4. Nothing! Just decorate. I do this, especially when I find a beautiful design on a postcard, and I want to hang it on my wall.
These are just some of my most favorite things to write about on postcards. The possibilities are endless. You can even simply write, "just thinking about you." Receiving a note in the mailbox is one of the most heartwarming experiences. It is a great feeling knowing that someone is genuinely thinking about you. I like to purchase postcards while I'm traveling, but I realize that is not always possible. I recommend carrying just a few in your bag or traveler's notebook and visit the local post office to pick up some pretty stamps. I adore the postcard selection over at CutethingsfromJapan.