Hello Friends! We're already halfway through the first month of 2021 and I am finally ready to share my analogue system. I made some minor changes to my system but overall I feel like it's pretty much the same.
Traveler's Notebook Standard (Olive)
I love using the undated monthly insert – as it is most useful for my planning needs. At a glance planning for the current month and future months work best for me. I like to quickly see important plans for the day and be able to look forward a couple of months in order to add plans. My monthly planner serves mostly as a functional planner, but I do like to add small decorations here and there.
Vertical Weekly Insert
My FAVORITE insert for memory keeping. I love to record tiny snippets of my day with lots of fun decorations.
MD Diary in B6 Slim with MD leather goat cover
This has been one of my picks for the past few years. What attracts me to this notebook is the simple monthly layout. I love to fill this with stamps, washi tapes and stickers to bring the memories throughout the month to life. The minimal layout of this notebook allows me to be creative in many ways. Pages will be filled with private journal entries.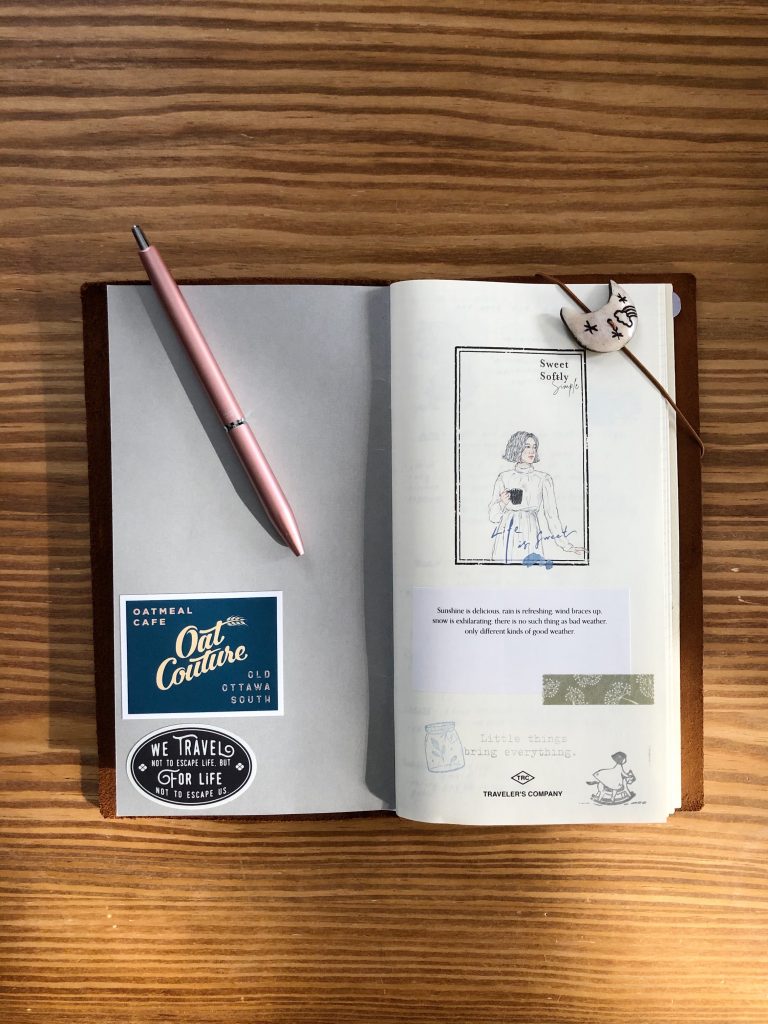 Traveler's Notebook Standard (Camel Ace Hotel Ed.)
I experimented with adding this insert into my olive traveler's notebook – but due to the nature of my functional set up for that notebook, the bulk was too much. I decided to keep this insert in a separate leather cover. I am using this insert for 2021 journaling. I don't plan to add in many paper ephemera or things that will make this insert bulky. My goal is to keep it as minimal as possible.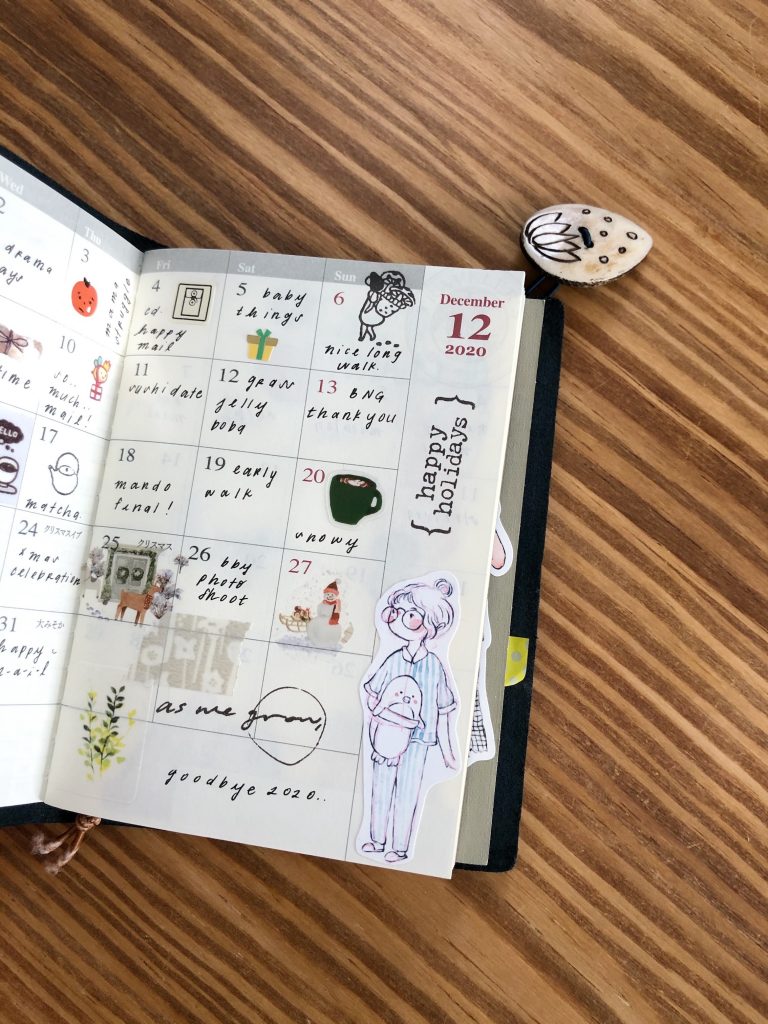 Traveler's Notebook Passport (Blue)
I enjoyed using this little guy so much this year and I've decided to set it up for 2021.
I use this insert for personal memory keeping. I don't share this much on Instagram but occasionally I will share this on my Ko-fi page.
I like the undated version in case I need a break from my normal journaling. I like to have another outlet to express my creativity. I appreciate the small space of the weekly layout. I find it approachable and I don't feel so much pressure to fill it with many words.
Personal Journals: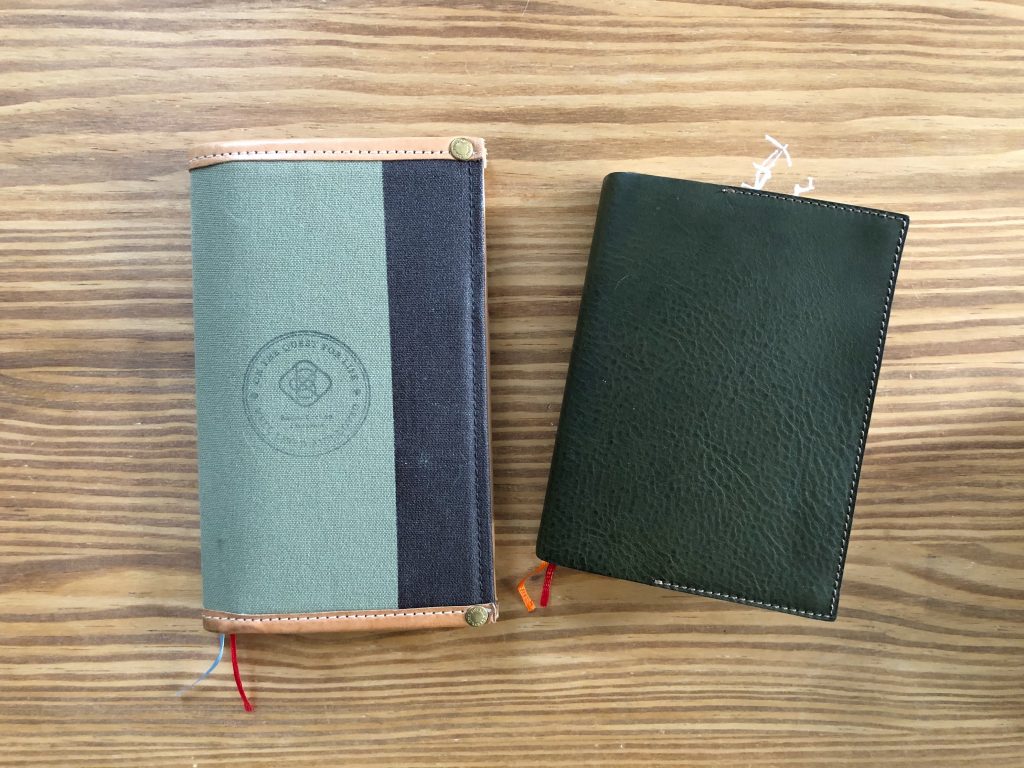 MD Diary 1D1P A6 with Wuzhi Cover
I use this notebook to write letters to my son. I mostly write in this notebook but I add stickers and stamps here and there. I also love to print photos with my pocket printer to add into this journal for him.
Jibun Techo DAYS
This notebook is all things baby. I like to track feedings and nap times. I also like to take notes about his days, milestones, doctors appointments etc. The Jibun Techo Days is split into two notebooks for the first and second half of the year. Personally I would have preferred it to be one notebook so that I would not have to transfer information mid year.
My little wishlist:
I've been wanting to try the JIYU notebook from Baum Kuchen Studio. I'm not sure exactly what I'd be using it for … more journaling? More memory keeping? I plan to hold off on buying this notebook until I can find proper use for it.
Thank you for reading this far! What are your picks for 2021?
Disclaimer: This post may contain affiliate links. Any purchases made will be at NO additional cost to you. This helps me maintain my blog along with other social media sites running. Thank you for your support!